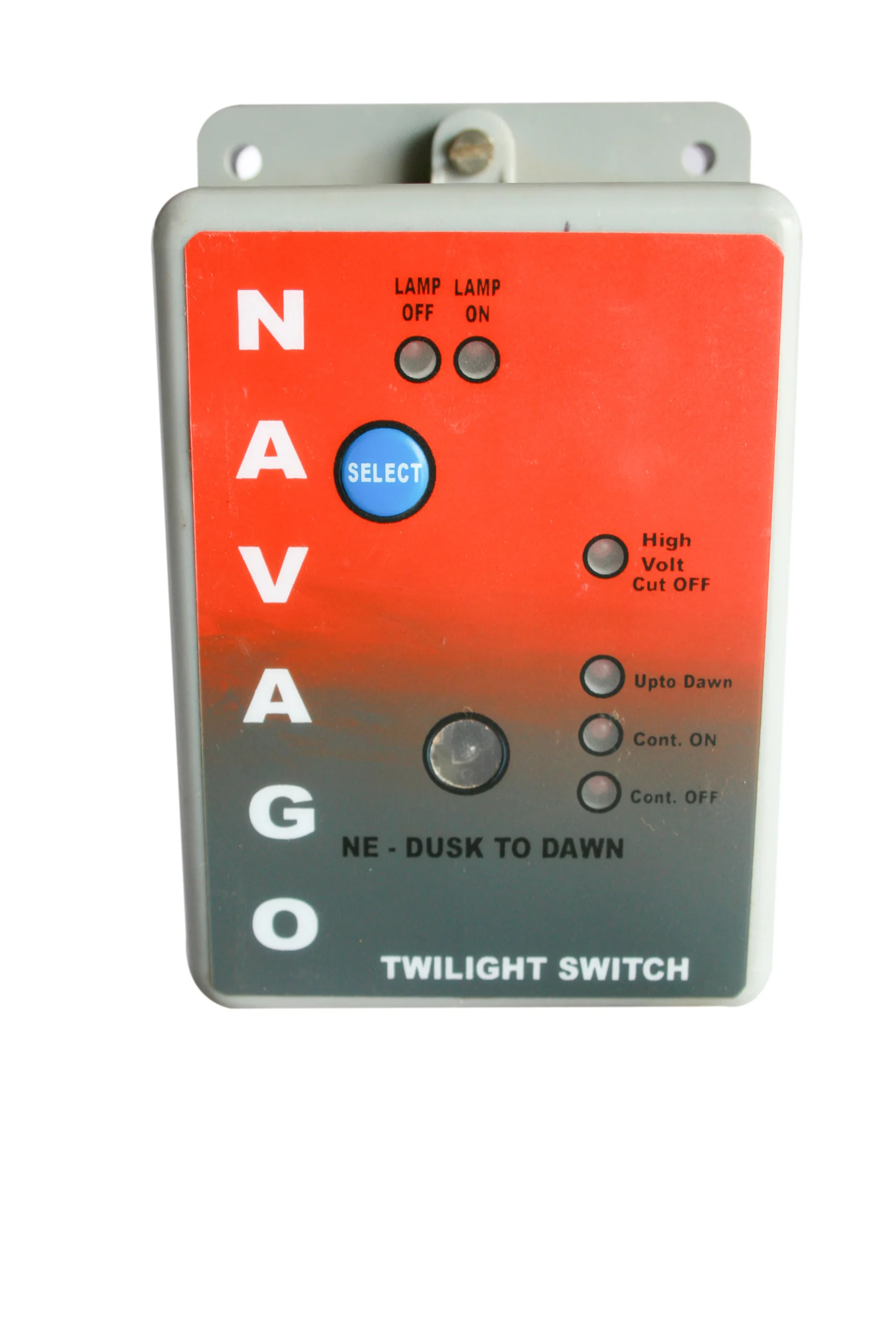 Twilight Switch - Infra Red Sensor Based Street Light Controller
Navago Twilight Switch is designed for automatic control of outdoor luminaries like street lamps, campus lightings, yard lightings, compound lightings, etc.
Switching is based on ambient light level.
Features: The judgment of the Twilight Switch is based on an infrared sensor. The field of view of the sensor is such that the ground lights like automobile and torch light do not affect it. The light of the lamp post on which the sensor is fitted will not reach it because of its field of view.
Specifications and Features
The unit confirms to IP 54 standards for outdoor use.
Automatic switching ON at dusk.
Switching OFF at dawn
Immunity to dust, bird sittings and cloud cover.
No seasonal resetting.
Electrical Specification
Operating Voltage : 230 V Ac
Maximum Load : 1 Kw and 3 Kw
Luminance for switching ON : <30 Lux with time delay 0f 30 secs
Luminance for switching OFF: >30 Lux with time delay of 30 secs
Operating Procedure
The lights connected to the Twilight Switch is turned ON when the natural light falls below 30 lux.
The lights are switched OFF in the morning when the light level falls above 30 lux.
Override option for the lights to remain continuously ON or continuously OFF is also provided. Operation of the Switch: The switch is designed for easy operation to the user. When supply is given to the Switch by default the Up to Dawn LED will glow.
If the output is OFF the Lamp OFF LED will glow. The switch will now work for the full night (it will switch ON at dusk when the light level falls below 30 Lux and switch OFF when the Lux level falls above 20 Lux) Pressing the 'SELECT' button will change the setting. The glowing of the LED is the indication of the setting. In case high voltage the high voltage cut OFF led will glow and the output will be cut off.
Call Us For Electrical and electronic Products
Are you in need of electrical or electronic Products Look no further than Navago Electrical and Electronics. We are your one-stop shop for all your electrical and electronic needs.